Interested in starting a tent rental company? Team with the very best in the industry!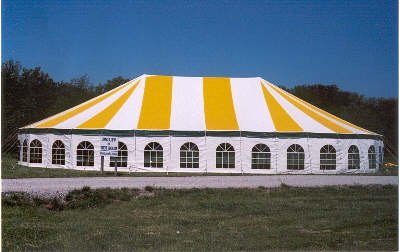 The majority of event rental business average $800 to $2,000 in profits for every single rental. Starting a tent, table and chair rental business is an excellent way to generate revenue quickly and all year. Consider all the occasions that use pole party tents: outside wedding receptions, auctions, tent sales, circus, festivals, college graduation parties, etc. These occasions can take place throughout any season. From small party tents for picnics and smaller social events, medium event tents for car dealerships and fireworks stands, all the way up to a big top tent for events like hosting a festival; circus tents; revivals or church meetings, Miami Tents are available for any and all usages!
One of the major differences of a Miami Tent is the wide variety of sizes and styles we manufacture. Most competitors specialize in the most basic square and rectangle designs in standard sizes and thats all. Miami Tent Company specializes in both square and rectangle as well, and also round and octagon tent designs.
We invite you to explore the unique field of the Party Tent Rental industry, where the opportunities are limitless. Tent rentals are a dynamic business and do not necessarily need a storefront. All services are offered at the consumer location. This opens the commercial party tent dealer to any market permitting them to travel (if wanted). It is possible to plan the tent installations around your schedule and still satisfy the client's needs. A flexible schedule enables owners to have a full or part-time job in addition to running their tent business. A lot of work connected with leasings can be carried out on nights or weekends, permitting the tent company owner to make use of enthusiastic entry level employees
When operated properly, a Party Tent can be in service for extended time periods with little or no maintenance. After the initial purchase a dealership only has operating expenses, vehicle maintenance, fuel, insurance, and payroll. As soon as these commitments are met, the remainder is profit for you, the business owner.
Depending where you live in the U.S. an event tent can be entirely paid for in just under 10 rentals. Throughout the busy graduation/wedding season, that means that the business owner could realize repayment in less than two months. We have actually seen our commercial grade tents last more than 20+ years: they are incredibly durable, yet stylish and practical. View our event party tent gallery.
In southern parts of the US the longer your rental period will be, and the more income potential you have. Clients in the southern states can rent special occasion event tents year round. In Miami Oklahoma the tent rental period lasts for about 7 months. When the weather condition forbids tent leasings, you will still have the ability to rent tables and chairs. Tent rental seasons can be extended even further with tent heating units and sidewalls.
Why consider Miami Tent? We speak from genuine worldwide experience. Miami Tent Company began as a tent manufacturer and supplier of pole tents for Christian Missionaries and Church meetings abroad and in many foreign countries. Founded in Oklahoma, we started small with only a few tents and in a short time Miami Tent Company quickly expanded, regularly servicing Texas, Indiana, Kentucky, and Michigan. We understand the event rental business; from the simplest operations with just two event party tents to the mega party tent companies with over 500,000 square feet of tents, we service any size business.
Miami Tent is the maker and distributor of all the tent products demanded to run a full service party tent rental company. Miami Tent owns a state of the art manufacturing facility; we do not resell imported party tents, but manufacture everything we offer. We welcome you to tour our facility and see us in action. Tent tops, sidewalls and most tent accessories are made at our facility in Miami Oklahoma.
Who Rents Party Tents:
Party Tent Rental Opportunities:
Corporate Functions
Special Events
Special Occasions
Sport Venues
Firework Tent Vendors
Wedding Events
Awards Ceremonies
Receptions
Fairs
Festivals
Auctions
Automobile Dealers
Country Clubs / Golf Courses
Social Clubs
Catering Companies
Construction Companies
Temporary Warehousing
Storage Companies
Give Miami Tent the opportunity to show you why our commercially manufactured pole tents are your best option for starting out in the tent rental industry. Our friendly staff stands ready to answer any and all questions you might have. Give us a call today or contact us via email here.