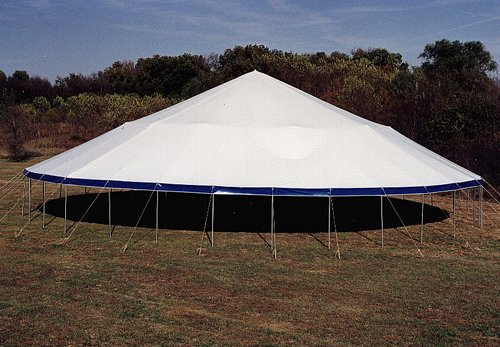 In the early 90's, a new 90″ wide 14 oz tent vinyl was developed especially for Miami Missionary Tent that we use in our round tents, oval tents, party tents, and missionary tents exclusively. It is not only of the highest quality tent vinyl but is very affordable with the strength and life that match a heavier and more costly tent vinyl.
This custom 14 oz tent vinyl film, in combination with our world class technicians, produce a tent that far exceeds our competition in quality and strength. Its strength to weight ratio is greater because pound for pound, the polyester inside the vinyl is 100% stronger than cotton and it will retain its strength for many years. It is durable because it is exceptionally resistant to abrasion, holing, chemicals and grease. Permanently fire resistant and meets all the requirements of the NFPA 701 Large Scale Flame Test and the California State Fire Marshall Small Scale Test. Flame resistance and char length meets and exceeds California state Fire Marshall requirements. Certificates of flame resistance are also sent with every tent shipment.
Now customers around the world can purchase a new round or oval tent at a used tent price
Let me share with you two recent customer testimonials:
David Angel, Angel Ministries, Virginia:
"I bought a 36′ x 80′ (14 oz.) gospel tent from you last August (2001) and we love it. The first time we set the tent up it rained really hard and we had not got the tent as tight as we do now and two pockets formed and started to pool… the tent held all that water with-out tearing even though it was almost on the ground. You all sure do make a fine product. Praise God."
Chris Maytag, California:
"I purchased a 36′ (14 oz) tent from you in midsummer, and was truly impressed by it's durability, well thought out design, etc….this tent survived sustained winds of 60 mph, with gusts to 100+. AMAZING."
Our party tents, commercial tents and missionary tents are of the finest quality and very affordable. Remember not only can you get a new round or oval tent at a used price but a tent that will last years longer.