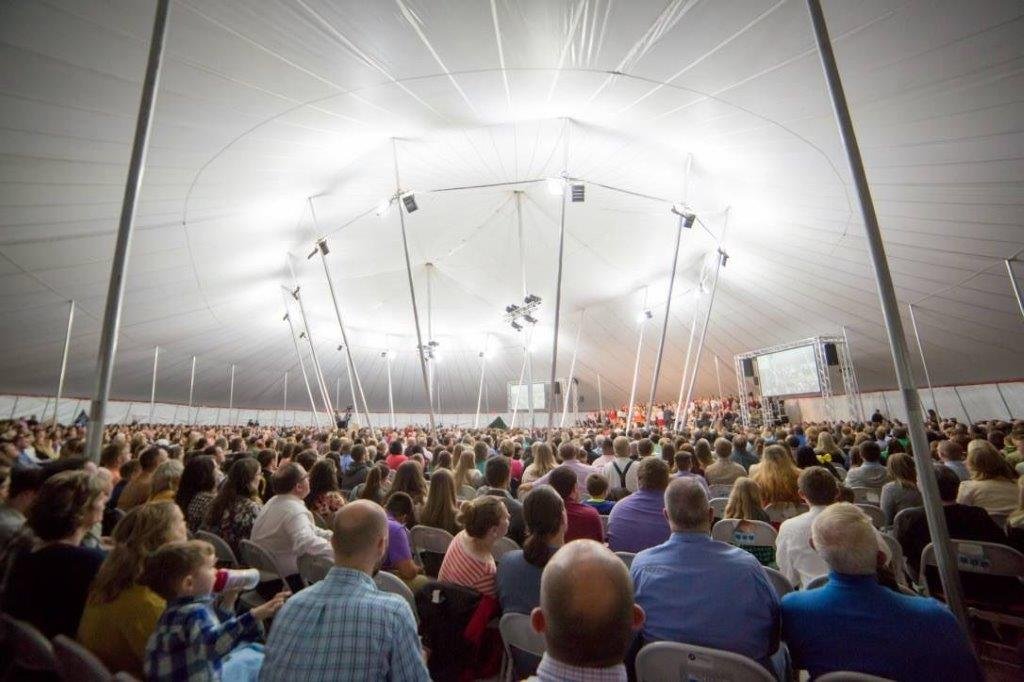 Large tents for sale is just what is sounds like, they're large tents! Most popular sizes range from our 60′ wide up to our 154′ wide and everything in between. These large tent tops are no different than the smaller polel tents we offer, they're just bigger.
Just like the smaller party tents we manufacture, the quality of vinyl, materials and craftsmanship never changes no matter what the size of the tent is. Of course, in our product line of large tents for sale, there is more tent top material, more center & wall poles, and much more accessories to ensure a more secure and stable tent that will stand up to the toughest elements.
We value the integrity of our respected reputation for quality tent manufacturing. That's why Miami Missionary Tent Company is well known for building the strongest, most reliable pole tents in the world. Don't take our word for it. Listen to what some of our customers are saying about our big top tents below:
"In 1995 Schambach Revivals was in need of a new tent for our inner-city crusades. We found Miami Missionary Tent Company to have a staff with a heart for ministry and an ability to manufacture quality tents. Our tent was possibly the largest made by Miami Missionary at that time. They were on schedule with tent's construction, and were able to accommodate our special requests. Because of its frequent use, it was important that we had the most durable, best quality tent we could find. The revival tent has held up under all types of adverse weather conditions. I would not hesitate to recommend Miami Tent Company to anyone in need of a tent of any size." Schambach Revivals, Texas
"We purchased a 110′ x 218′ tent from Miami Tent in 2000. We set it up many times each year for our circus. It has been through many storms with winds of 70 mph and the tent didn't budge. The tent connection system is very good and the way the seams tighten up is terrific. Whenever we purchase another tent, it will be with Miami Missionary Tent." Serge Coronas, Circus Hollywood, Florida
"Our 77′ x 125′ tent was the "official dinning area" for the Pentagon rescue and recovery effort following the 9-11 attack. It is the only tent in the history of the Pentagon to be set up in the South Parking Lot. Half way through the recovery effort, a tornado touched down just across the highway from where we were set up. Our Miami Missionary Tent NEVER MOVED! Thank you for making such a quality product to be used for the Gospel." Denny Nissley, Christ In Action, Virginia
Wonderful testimonies, and these are just a few of  hundreds we've received over the past 40 years we've been manufacturing commercial tent products. Our pole tents are currently in all 50 States, every province of Canada and 146 countries. We utilize only the finest tent product materials in every commercial tent we manufacture.
The 14 and 18 oz. vinyl tent material we use in our tents was developed especially for us and has been vastly improved many times since our debut in the early 1980s. The premium 18 oz. vinyl was designed especially to endure the abuse and rough use in remote areas by Christian Missionaries, Church planters as well as commercial customers all over the world. It is also ideal for other tough applications such as the "tent rental industry" which requires exceptional strength and long life. The 14 and 16 oz. vinyl we make use of is of the highest quality.
Its strength-to-weight ratio is greater because pound for pound, the polyester inside the vinyl is about 100% stronger than cotton. It has excellent adhesion, and protected as it is, retains that strength for several years. It is durable because it is exceptionally resistant to abrasion, holing, chemicals and grease. It is affordable because of its long useful life. Miami Tents simply outlast the competitors tents!
If you're in the market for a large pole tent, give us a call today and let us show you why Miami Tent Company is the very best pole tent manufacturer anywhere. Our helpful and friendly staff is here to assist you every step of the way and will be glad to answer any and all questions you might need answered. You can also contact us via email here.